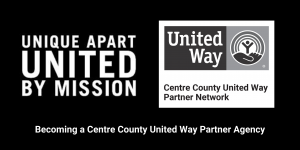 We know that working together - around clear goals and aspirations - informed by community voices and shared stakeholder accountability - creates the most effective change. By becoming a Centre County United Way Partner Agency, we can collectively achieve this change. Our greatest strength is our partnerships and our shared mission of making Centre County better for all.
By leveraging philanthropic resources collected within our community, Centre County United Way serves as a partner and investor of programs managed by non-profit 501(c)(3) health or human service organizations that provide essential services to Centre County residents. The community places their trust in us to ensure all our nonprofit partners are fully vetted as financially sound agencies delivering services effectively and efficiently to support the community needs. Programs developed, implemented and managed by the United Way's non-profit partner agencies align with the objectives, goals and strategies identified within our community.
We want to thank you for your interest in applying to become a Centre County United Way (CCUW) Partner Agency. To begin the process, please submit a letter of intent.  You can send the letter via snail mail to 131 S. Fraser St., Suite 3, State College, PA  16801 or via email to paula@ccunitedway.org
The letter should include:
1. Your organization's mission statement,
2. The program(s) for which you would like to apply for funding,
3.   A brief description of your program outcomes,
4.   A copy of your 501(c)3 determination letter.
Before submitting your letter, it might help to review our FUNDING PHILOSOPHY. CCUW will focus all funding in one of three areas: education, income stability and health. Within each of these program areas, we currently narrow our funding priorities to children and youth, people in crisis, employment and healthcare, transportation and shelter care. If you have any questions about our focus, please feel free to call Paula Williams, Executive Director at 814-238-8283 or email paula@ccunitedway.org.
After your letter is reviewed, you will receive communication from CCUW regarding whether or not your agency and program are eligible to apply for admission as a Partner Agency and, if so, how to proceed with the application process.
You are welcome to review the PARTNER AGENCY ADMISSION POLICY , the APPLICATION, and our MEMORANDUM OF UNDERSTANDING to better understand the process and to determine if you want to continue the application process.